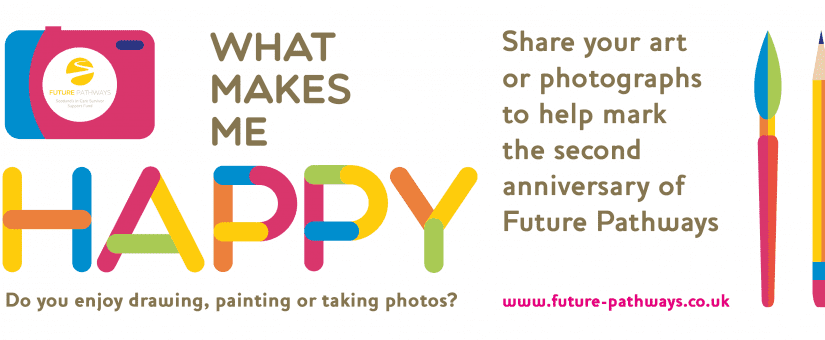 What makes me happy
A historic Edinburgh venue will host a special art exhibition to celebrate the second anniversary of Future Pathways, Scotland's in care survivor support fund – and budding artists are being invited to submit their work for it.
The theme of the show, which will take place in the Museum of Edinburgh on the Royal Mile, is "What Makes Me Happy" and will feature work created by people who have survived childhood abuse whilst in care. Anyone who has experienced neglect or abuse as a child in care in Scotland is welcome to submit their artwork.
To help those who are interested, a series of free artist workshops are taking place this July and August in Glasgow's Trongate. Scottish-based artist Josie Vallely will lead the events, which will also be based on the theme "What Makes Me Happy".
Future Pathways was set up in September 2016 with Scottish Government funding to support people who had a negative experience of being in the care system in Scotland. The project is open to anyone aged over 18, wherever they live in the world. Examples of support – which is tailored to each person – are befriending, birth record searches, help into education and access to trauma counselling.
Anne Hunter, Communications and Engagement Manager for Future Pathways, said: "We received fantastic works of art for our My Journey exhibition earlier this year. It was so successful, and survivors told us how much they enjoyed taking part, that we decided to do something similar to mark our second anniversary.
"People do not have to be actively registered with Future Pathways to take part, as long as they have survived in-care abuse. They also do not have to take part in the art sessions this summer, although work produced during these is likely to be displayed."
To submit artwork or for more details about how to do so, or to find out more about Future Pathways, please email engagement@future-pathways.co.uk, call 0141 226 9852 or visit www.future-pathways.co.uk. Entry forms and guidance notes can be downloaded below:
What makes me happy – entry form
What makes – guidance for entries June 2018
The art sessions are taking place at Project Ability, 103 Trongate, between 11am and 2pm, on the 2nd, 8th and 21st of August.