Shona, who Future Pathways has been supporting, recently completed a 300-mile walk from Yorkshire to Edinburgh to raise funds for the charity Steps to Hope. It wasn't easy – she had to overcome some tough challenges, both mental and physical. Here's her story.
Shona works as a mental health practitioner and a counsellor. Last year she decided that she wanted to help the charity Steps to Hope, whose work to help people suffering from homelessness and addiction is very close to her heart. So what's the best way to help a charity called Steps to Hope? Walking, of course!
Shona decided to do a sponsored walk from Yorkshire to the school where she works. She organised it all herself and did the walk without any support team apart from her dog, Milo, for the last few days. She carried her tent and all her other equipment herself, in a rucksack that weighed about 15kg – that's about as heavy as an average three-year-old child.
Shona describes the route: "I started at Helmsley, in North Yorkshire. I then followed the Cleveland Way until I got to Robin Hoods Bay on the east coast of England. And then from there I walked to Edinburgh. The route should have been 300 miles exactly, although I went off track a few times so I ended up doing 314 miles."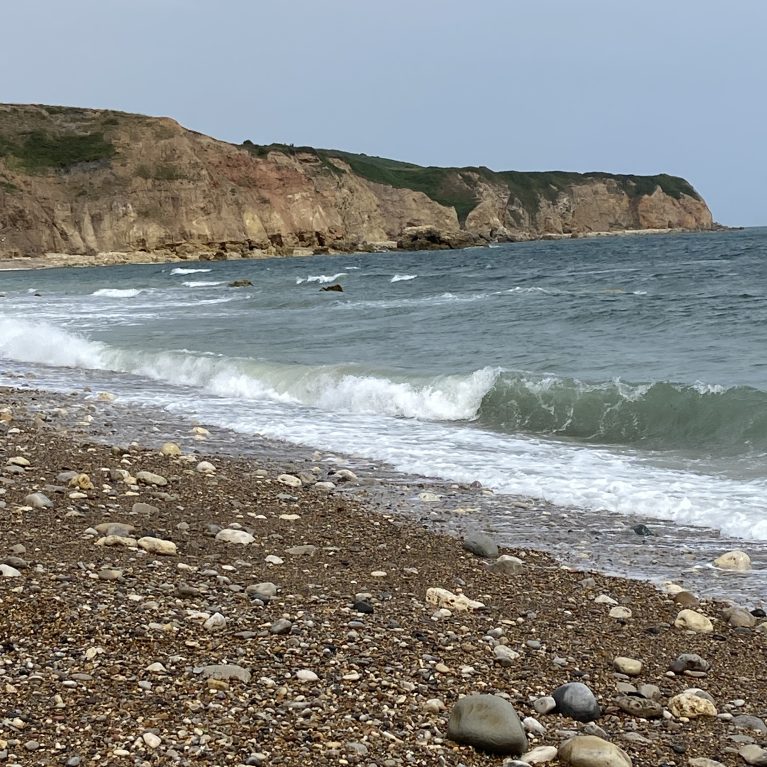 View of the beach during Shona's walk from Yorkshire to Edinburgh
Although Shona has always enjoyed going for walks, and had found it very helpful for her mental health, the idea of doing a 300-mile walk was very daunting. Shona says: "I would never have done a walk at all without all the counselling I've had through Future Pathways. I've been involved with them for about three and a half years and they've helped me massively. Last year my brother died, and I really wanted to do something in his memory. I just thought, 'I'm going to push myself, I'm going to go and do it'." Her target was to raise £2,000."
Shona put a lot of work into training so that she was ready to tackle the walk. "I trained for six months. I'm 55 – it's not like I'm a spring chicken – and also I broke my leg a few years ago. I would walk home from school carrying a full-weight pack: it's nine miles from the school to my house. In the end, I decided that the only way to find out if I was fit enough to do the walk was to actually try to do it."
'The walk definitely did push my boundaries but it was amazing.'
Shona started her walk in July this year. The plan was to take about two weeks to do the whole trip. In the end it took a bit longer, because – to put it mildly – Shona had to overcome some challenges along the way. On the second night, Shona's tent was destroyed. "The winds were so wild up on the moors, and it was raining really hard so my tent was absolutely saturated, and a huge big rip went in the back of it. After that I stayed in B&Bs and hostels, but for the second bit of the walk after Berwick I camped the whole way."
The second bit? "Yes, near Berwick I slipped and fell on an overgrown trail. I caught my foot in some roots, tripped and split my head open and fractured my eye socket. The damage was worse because my pack was so heavy. The doctors said I had to stop, so I stopped for twelve days. And as soon as they gave me the go-ahead to go back, I went back and finished the walk. I didn't start at the exact point where I'd fallen, so at a later point I did one trail three times to make up the miles."
Shona celebrating the end of her 300-mile walk.
Shona finished her walk on Sunday 14 August. She has reached her fundraising target of £2,000.
As you'd expect, Shona is delighted to have raised so much money for the Steps for Hope charity, and says that she found the experience personally rewarding too. "I ended up seeing incredible sights. I saw wild dolphins near me while I was swimming in the sea. I sat on remote beaches where Arctic Terns, thousands of them, were nesting on the rocks, and I sat and just watched them for hours. I also meet some really lovely people."
"The walk definitely did push my boundaries, but it was amazing. And I couldn't have done it without Future Pathways. They paid for my travel to Yorkshire, and my tent, my hostels after that was destroyed, and then a replacement tent for the second part of the walk after my fall."
Shona deserves all the credit for her achievement. And it wasn't easy. "It challenged me physically, even with the amount of training that I did, because your body is not used to getting up every day and doing that amount of walking every single day. But the counsellor I have is amazing. She said, 'You can totally do this.'
"The first week was my worst week, thinking: 'I'm so anxious about being out of my comfort zone, about being in an unfamiliar space, being isolated.' But I remembered that actually I just needed to keep on putting one foot in front of the other. And at the age of 55, to finish 300 miles, I actually think that's pretty amazing."