Sarah Smith is the founder of lightbulb.coach, a coaching company which supports people to build confidence and reach their goals. We spoke to Sarah to find out more about her work.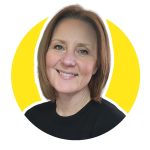 How did you get started in coaching?
My background is in finance. I was working for Aberdeen Asset Management for about 17 years in learning and development, and I was a coach in-house. I got the opportunity to take voluntary redundancy at the end of 2017, and started lightbulb.coach at the start of 2019. So I'm just in my fourth year.
To make coaching mainstream for young people. When I was working with executives and senior leaders in corporate organisations, I realised that what I was helping them with was the same struggles that many young people have in their early careers. And I thought, well, why are we not offering this to young people much earlier? So I started working with young people and trying to raise the awareness of coaching and the benefits. I've got a broad range of clients, though – basically anyone from the age of nine upwards – which is fantastic.
Coaching really is for everyone. Maybe some people have the idea that it's only reserved for executives or very senior people, but in today's world it's becoming more of a solution for people who just want to make a change, and just need a little bit of an extra help. Coaching is available and affordable.
Is the process of doing coaching for children very different from adults?
Fundamentally, the themes are very similar, but the approach is slightly different. You have to be a little bit more directive with children, so you maybe use a lot more play: things like Lego and creating vision boards. But I use that with adults as well, because we all like to release our inner child sometimes.
So the approach is different, but the topics are very much the same. It's about building confidence, self-esteem and self-awareness, and understanding our own personal triggers and our barriers and what gets in the way.
Are there many differences between coaching and counselling?
Yes. Coaching is forward-facing: where are you now, where do you want to get to and how can I help you get there? Purely by asking the right questions. Whereas counselling is very much looking into the past and unravelling the events that have brought you to where you are today, and helping you to understand that.
I always compare what I do to sports coaching. Everyone knows that if you want to jump higher, swim faster, run faster, your coach will help you do that. They'll look at your technique, work out what's holding you back and try to improve on what you're already doing.
It's the same with the coaching I do. It could be something that is holding the person back, like a particular fear or maybe not feeling confident in their ability. You often see imposter syndrome, for example. And coaching involves being really specific about what the goal is, and then working out the steps and strategies to get there.
What are some of the main reasons why people come to you?
For children, it's through parents. Covid has changed things a lot. It feels like our young people are really struggling to get back into socialising: having the motivation to go back to school clubs or sports. 
With adults it might be similar. Or maybe the person wants to change their career, because they're just really unhappy in what they're doing, but they don't know what it is that they do want to do. So they will come to me looking just to explore what their options are, and to come up with more ideas and strategies of how they can make real transformational change in their lives.
People often think that coaches are like cheerleaders, and that's really not what we're there to do. We are very much partnering with the person, but we also provide the challenge if there's a lack of motivation.
What would be a typical amount of time that you would spend with someone?
That's another difference compared to counselling. I would describe coaching as a short-term solution for long-term gain. You might work with someone for an hour or 90 minutes per month for, say, six to eight months. A lot of the work is done between the sessions. That, I think, is very similar to counselling. But whereas with counselling you might have someone support you for a long period of time, a coach will tend to work with you for a shorter period.
How did you start working with Future Pathways?
Someone got in touch with me to ask about coaching and coach mentoring. They said that they were working with Future Pathways and that I would be a good partner. I'd heard of Future Pathways before, through my work with a number of charities, so I was familiar with what they do.
And it was great to hear that coaching was being embraced. Because within charities, for example, there's often a counselling service offered, but once you get to the end of that counselling, how do you move forward? You've done all of that work to get to where you are now: what is the next chapter? And I think that's where coaching can really help.